by
The Town of Ballston Community Library is seeking an enthusiastic, flexible and punctual person to fill an hourly youth services clerk position 10 hours per week including at least one evening a week and one Saturday a month with the opportunity for more hours filling in for regular staff.  Salary is $9.00 per hour and the position starts at the end of March.   Duties include routine circulation using an automated circulation system, general reader's advisory, program preparation and leading children's programs.  The work requires computer proficiency and working directly with children and teens.
Please pick up an application at the circulation desk.  Please send applications to Rebecca Verhayden Darling, Youth Services Librarian, 2 Lawmar Lane, Burnt Hills, NY 12027 or rdarling@sals.edu.  Deadline for applications is March 19.
Many Thanks to the Ballston Spa National Bank staff for nominating the Town of Ballston Community Library to receive a $500.00 donation from the Ballston Spa National Bank!
The Staff and Trustees of the Town of Ballston Community Library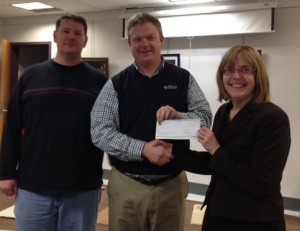 Spring Programs - You may also register online for Programs & Classes or for Youth Programs!
TAX FORM INFORMATION:
Federal Tax Forms 1040, 1040A and 1040EZ  and their instruction books are here!
New York State Tax forms are also here.
All of the forms are in the Reading Room of the library near the windows. Please take only one copy of each form. We all need to pay our taxes. If you need additional forms, you can make 1 copy for free of up to 3 (double sided) pages. We will also be happy to show you how to print out any tax forms we don't have. We can't print out instruction books because they have so many pages.
The March Meeting of the Library Board of Trustees will be held at 7 PM on Wednesday, March 26, in the library community room. These meetings are open to the public and we'd love to see you there!
 Town of Ballston Historian Rick Reynolds on Schenectady Today talking about Ballston 225: Watch it here
 If you are an artist or photographer who would like to display your work in the library community room,  or a collector who'd like to use our display case to allow the community to see your collection,  please call 399-8174 ext 4 or ask for Judy at the library.  
2013-2016 Library Long Range Plan
Emergency Closings are  reported on the Times Union Website as Town of Ballston Community Library, here, and on our Facebook page. Please check here or call us at 399-8174 ext. 2 before coming out if the weather is bad.